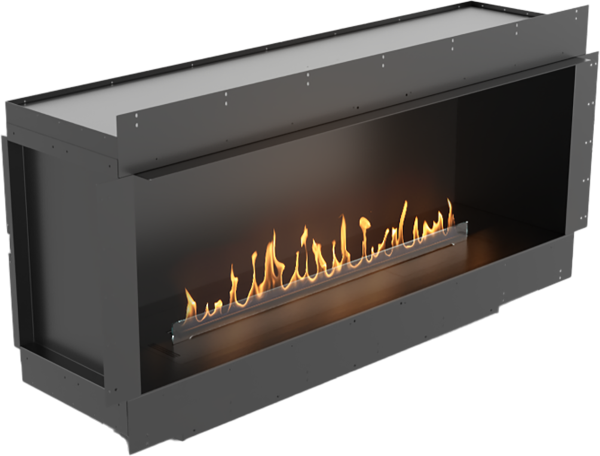 Detaje teknike
| | |
| --- | --- |
| Tipi i ndezjës | Elektronik (Pult, App) |
| Gjerësi: | 800 mm, 1000 mm, 1200 mm, 1500 mm, 1800 mm, 2300 mm, 2700 mm |
| Lartësi: | 780 mm |
| Thellësi: | 431 mm |
| Lyerja: | Black powder coating |
| Nivelet e flakes: | 6 |
| Capaciteti: | 3.1 / 9.6 L, 4.3 / 13.4 L, 5.5 / 17.2 L, 6.8 / 21 L, 8.6 / 26.8 L, 11.7 / 36.3 L, 14.8 / 45.9 L |
| Kohë diegieje: | 5 / 15 orë, 8 / 25 orë, 8 / 26 orë, 9 / 30 orë, 9 / 30 orë, 10 / 31 orë, 10 / 31 orë |
| Fuqia | 3.1 kW, 4.4 kW, 7.0 kW, 9.4 kW, 13 kW, 18 kW, 22.5 kW |
| Min. vellim dhome: | 31 m³, 44 m³, 70 m³, 94 m³, 130 m³, 180 m³, 225 m³ |
| Prodhuar në: | Poloni |
FLA4 NET-ZERO APP
Control the flame
See the fireplace messages
Check the fuel level
Set the work timer
Activate Child Lock
BEV TECHNOLOGY®
The technology implemented in each ethanol insert provides the ultimate safety and the highest comfort of use. Explore advanced features and multiple safety sensors that are an inseparable part of the BEV Technology®.
Read More
ZERO CLEARANCE
This feature allows to install Forma in a wall construction made from a variety of materials, like wood, stone or plaster. All finishing materials, surrounding the fireplace, can be flammable when a deflector is installed as shown in the installation manual.
INSTALLATION OPTIONS
SINGLE-SIDED
LEFT CORNER
RIGHT CORNER
THREE-SIDED
SEE-THROUGH
ROOM DIVIDER
CARBON NEUTRAL
It is the simplest solution to accquire the most advanced, carbon neutral, beautiful fireplace at home in just few moments. The only connection needed, as with all BEV® ethanol fireplaces, is the electric power. Everything else is completely unnecessary, making it the safest and the best solution for private and commercial properties. As the world pushes towards Net Zero solutions, Forma firebox insert is an optimal choice for those looking for a clean burning.
PERFECT FIT
Depending on a budget, Forma ethanol firebox insert comes with a wide choice of different insert lengths, ranging from 800mm up to 2700mm. Prime Fire , FLA4 or FLA4+ can be installed as an ethanol insert which comes as a part of Forma. Burning time with larger inserts can be as along as 36 hours.