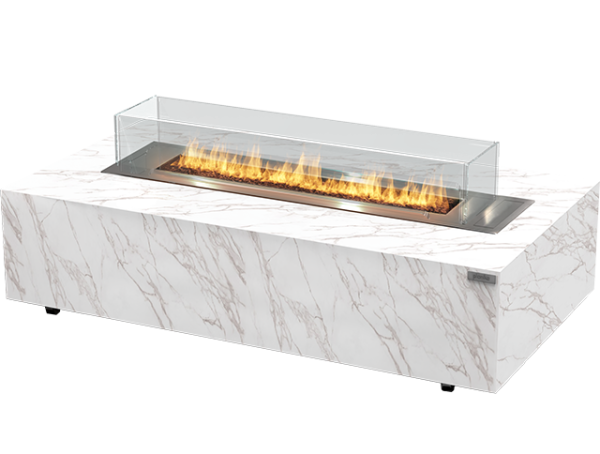 Detaje teknike
Tipi i ndezjës

Elektronik (Pult)

Dimensionet e vatrës (WxHxD):

1190 x 315 x 760 mm

Materiale:

Sintered ceramics, Stainless steel,
Galvanized steel, Toughened glass

Lyerja:

brushed stainless steel, Black powder coating

Nivelet e flakës:

6

Capaciteti:

10.5 L

Kohë diegieje:

15 orë

Fuqia:

9.4 kW

Min. vellim dhome

94 m³

Ambient

Indoor, Outdoor

Pesha

43 Kg

Prodhuar në:

Poloni
INNOVATIVE BEV TECHNOLOGY
Planika BEV (Burning Ethanol Vapours) Technology ensures no direct contact between the liquid fuel and the flame. The fuel is transported from the inner tank to the vapour generator and ignited right above the burner creating real, golden flame. The combustion process is controlled by a microprocessor and numerous safety sensors. This gives you full control over the real fire in your indoor space.
HIGH-END CASINGS
Cabo has three casing options to choose from and to fit perfectly into any interior style from rich and luxurious to modern and minimalistic. Daze and Laurent by Cosentino are highly durable materials made of sintered ceramics, quartz and glass. This material is not only scratch and stain-resistant, but it can also withstand high temperatures and various weather conditions. The matt finish adds a luxurious touch to indoor and outdoor spaces. Gris has a metallic finish and an unusual, 3D structure that was inspired by the surface of the moon. Gris made of high-density fiber cement that provides durability to the fireplace and prevents any scratches and stains.
SPECIAL FEATURES
EASY REFILLING
Cabo has an integrated pump concealed in its lower compartment. No additional pump is needed. All it takes is to replace the bottle with ethanol fuel to enjoy the experience of a safe and real flame in only a few minutes!
VERSATILE APPLICATION
Cabo is the first ethanol fireplace with BEV Technology that can be used both indoors and outdoors. Thanks to the tempered glass shield, the flame is protected from the strong wind from all four sides. Right now you can enjoy the real flame and BE Technology whenever you want it.
EASY FIRE ADJUSTMENT
The innovative BEV Technology allows controlling Cabo remotely with an included remote or thanks to the dedicated app FLA3 NET ZERO. This fireplace has an integrated, concealed control panel that will keep you informed about the status of the appliance.
6 FLAME HEIGHT LEVELS
Use total control of the fire. The Cabo has 6 levels of flame height, so you can quickly heat up the room you are in and experience the unique atmosphere of the fire for hours on end. The lowest level of flame allows you to enjoy the flame even for 8 hours. Meanwhile, the highest level of the flame will heat up the room in only a few minutes!