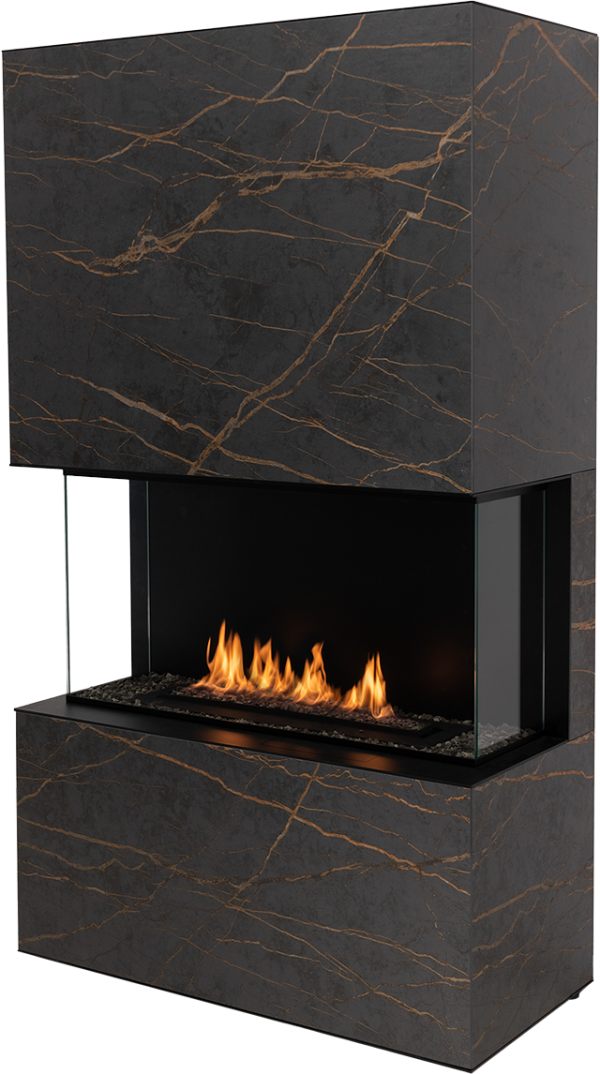 Detaje teknike
| | |
| --- | --- |
| Tipi i ndezjës | Elektronik (Pult, App) |
| Dimensione: | 1070 x 1850 x 500 mm |
| Dimensionet e vatrës (WxHxD): | 1000 x 500 x 280 mm |
| Lyerja | Black powder coating |
| Nivelet e flakës: | 6 |
| Capaciteti: | 13.4 L |
| Kohë diegieje: | 29 orë |
| Fuqia: | 5.0 kW |
| Min. vellim dhome | 50 m³ |
| Pesha | 103.5 Kg |
| Prodhuar në: | Poloni |
FLA 3 NET-ZERO APP
Control the flame
See the fireplace messages
Check the fuel level
Set the work timer
Activate Child Lock
WARM ALL AROUND
Stone Fireplace combines functionality with aesthetics. This modern and minimalistic stove can produce pleasurable heat which is then distributed through the hood into the room. An experience of a real fire with its most valuable advantages.
SPECIAL FEATURES
RESISTANT CASING
Stone comes in three different casing options – Daze, Gris or Laurent by Cosentino. These innovative materials will fit in many contemporary designs, especially Scandinavian, modern, minimalistic or luxurious.
CONVENINENT INSTALLATION
Stone is freestanding BEV fireplace that doesn't require flue or chimney. The simplest process of installation. Cover the fireplace with included casing panels and enjoy the warmth of real flame.
HIGHEST SAFETY STANDARDS
Stone features burner patented BEV (Burning Ethanol Vapours) Technology. The liquid fuel is transported from the inner tank to the vapour generator. Thus, there is no direct contact between the flame and the liquid fuel.
EASY USE
Stone fireplace can be controlled with an integrated control panel, handy remote control, a dedicated app or with an SHS module. Enjoy the real golden flame however and whenever you want.
GLASS SCREEN
The dedicated toughened glass panel covers and stabilizes the flame. The three-sided fireplace brings a true panoramic fire so you can enjoy the flame from every angle.
FLAME CONTROL
Control the fire with the included remote or mobile app on your smartphone. Have control over the fire and take advantage of the 6-stage flame height regulation.