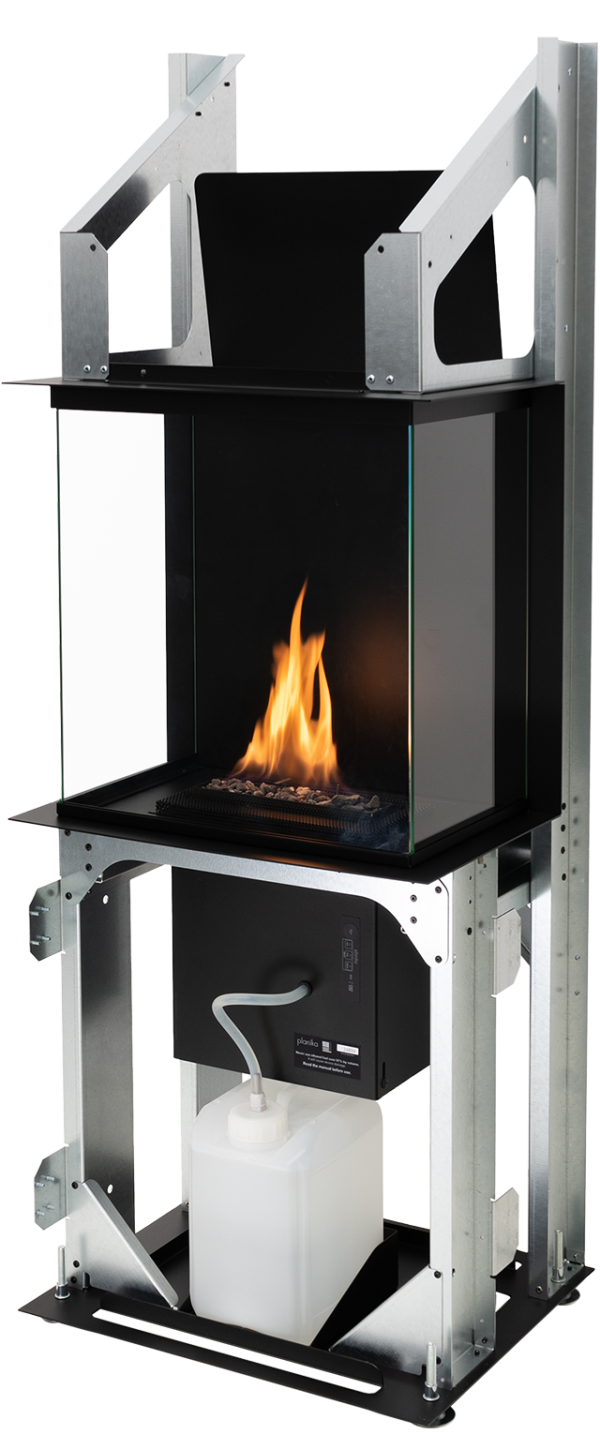 Detaje teknike
| | |
| --- | --- |
| Tipi i ndezjës | Elektronik (Pult, App) |
| Dimensionet e vatrës (WxHxD): | 430 x 450 x 280 mm |
| Lyerja | Black powder coating |
| Nivelet e flakës: | 2 |
| Capaciteti: | 5.0 L |
| Kohë diegieje: | 33 orë |
| Fuqia: | 3.5 kW |
| Min. vellim dhome | 35 m³ |
| Pesha | 41 Kg |
| Prodhuar në: | Poloni |
MODERN BEV FIREPLACE WITH A REAL FIRE
Arranging a fireplace with a real fire has never been as easy as with BEV technology. Rock is the latest generation of automatic ethanol fireplaces, with no design or installation restrictions. Combustion with BEV technology is carbon-neutral so you can use Planika fireplaces even in environmentally restricted cities and passive buildings. The very process of converting liquid ethanol into vapour and its combustion is controlled by a microprocessor and safety sensors.
SPECIAL FEATURES
100% THERMAL EFFICIENCY
The fireplace with BEV – Rock technology, does not require a chimney connection, so that 100% of the heat emitted during the combustion process remains in the room in question. In practice, this means that, for example, a 40 m2 room can be heated by up to 3-5'C in one hour!
REMOTE-CONTROLLED FLAMES
What if you could light a fireplace without going near it? Without removing the ashes, stacking the wood pile? Don't get up from the sofa, just switch on the fireplace using your phone. Adjust the height of the flames and the heat emitted, and then switch it off whenever you want. No waiting "to burn out". A modern fireplace that adapts to you – not the other way around.
REFUELLING IN LESS THAN A MINUTE
TWhen the fuel in the Rock fireplace runs out, open the door under the fireplace, pull out the empty canister, unscrew the end of the hose and attach it to the new full fuel bottle. During operation, the fireplace will dispense the correct amount of ethanol on its own to convert into vapour and burn. It couldn't be simpler. You can order the ethanol in 5-litre canisters HERE.
ROCK IN READY FINISHES
In addition to the Core version for your own finish, the Rock fireplace also comes in ready-made DEKTON cladding from Cosentino and finished with Silestone board. As long as these finishes match the interior design, the fireplace will be ready for use even one hour after delivery.
GLASS SCREEN
A dedicated panel made from tempered glass protect the flame from three sides from the direct contact and sudden wind blows. The three-sided fireplace brings a true experience of cozy atmosphere.
FLAME CONTROL
Control the fire with the included remote or mobile app on your smartphone. Have control over the fire and take advantage of the 6-stage flame height regulation.