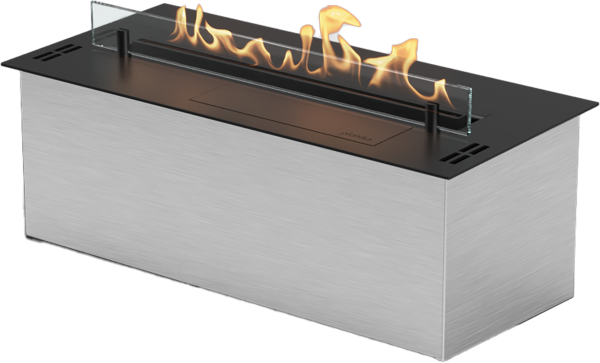 Prime Fire 590
Related products
Detaje teknike
| | |
| --- | --- |
| Tipi i ndezjës | Elektronik (Pult) |
| Gjatësia e zjarrit: | 520 mm |
| Sipërfaqja | 590 x 280 mm |
| Lartësia: | 226.5 mm |
| Lyerja | Black powder coating |
| Nivelet e flakës: | 2 |
| Capaciteti: | 3.1 L |
| Kohë diegieje: | 5 orë |
| Fuqia: | 3.1 kW |
| Min. vellim dhome | 31 m³ |
| Pesha: | 19.9 kg |
| Prodhuar në: | Poloni |
CLEANEST BURNING PROCESS
No smoke or unpleasant smell during the burning process. The only by-products of the burning are heat, water vapour and an insignificant amount of CO2.
ECO FUEL SAFETY CERTIFICATE
The certificate indicates that Fanola has undergone rigorous scientific testing to prove its compliance with the European Union environmental standards.
CHARMING NATURAL FLAME
Enjoy the magical atmosphere created by flickering amber flames without bluish and artificial reflections.
LONGEST BURNING TIME
The specially developed fuel formula allows achieving the longest possible burning time.
BIO ETHANOL BURNERS WITH MULTIPLE ARRANGEMENT OPTIONS
Prime Fire bioethanol burners come in two sizes: 700mm and 990 mm, and are designed to be installed into a custom surround. One aspect of ethanol fireplace burners is the ability to choose how many sides of the fireplace are exposed. You can create a completely open fireplace, or close it from one or more sides. With Prime Fire inserts you can enjoy beautiful, real, long-lasting flames from every angle.
PRIME FIRE IN CASING
Prime Fire can be purchased with casing which allows for a safe and easy wall installation.
BIO ETHANOL BURNER WITH PATENTED TECHNOLOGY
It is the technology that makes Prime Fire one of the most advanced products, ensuring the cleanest and most effective burning process.
MAIN FUEL TANK WITH FUEL LEVEL SENSORS
AUTOMATIC FUEL FEEDING SYSTEM
MICROPORCESSORS
ETHANOL VAPOURS GENERATOR
COMBUSTION AREA
Learn More
NO HARD CONNECTIONS
Prime Fire inserts are a perfect choice for modern residential buildings. Due to the lack of any hard connection, the installation process is extremely easy.
NET-ZERO FIREPLACES
This ethanol burner with BEV Technology® runs on an eco-friendly fuel and ensures zero carbon emission, meaning it produces only water and a minimal amount of carbon dioxide. The combustion of ethanol, which is made of biomass, is carbon neutral and the patented burning technology allows the installation of the fireplaces in cities and countries with restrictions on the use of fireplaces.
Automatic refilling system
Automatic refilling system
Planika was the first to introduce the automatic refilling system for bioethanol fireplaces. An automatic pump allows you to refill the fireplace quickly and effortlessly. All it takes in connecting the pump with an integrated panel and putting the other pipe to the botttle with fuel and pushing the button. Once the tank is full, the pump switches off automatically. This protects the user and the fireplace from any accidental spillage or overfilling.
FANOLA HIGH QUALITY ETHANOL FUEL
A specially developed fuel formula allows to achieve the longest possible burning time. High-quality fuel can guarantee the proper operating of the fireplaces.