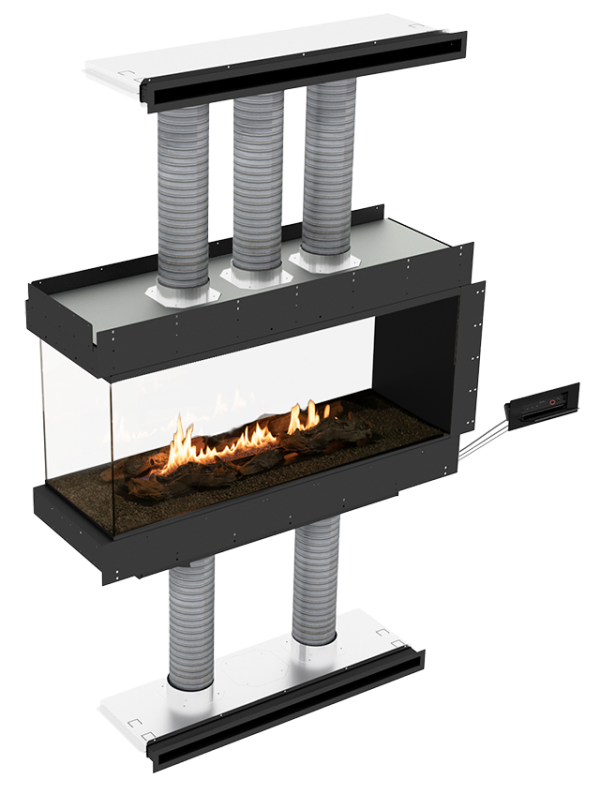 Detaje teknike
| | |
| --- | --- |
| Tipi i ndezjës | Elektronik (Pult, App) |
| Dimensionet e vatrës (WxHxD) | 1219 x 508 x 406 mm |
| Lyerja | Black powder coating |
| Nivelet e flakës: | 6 |
| Capaciteti: | 5.5 L |
| Kohë diegieje: | 10 orë |
| Fuqia: | 7.0 kW |
| Min. vellim dhome | 70 m³ |
| Pesha: | ~90 kg |
| Prodhuar në: | Poloni |
FLA4 NET-ZERO APP
Control the flame
See the fireplace messages
Check the fuel level
Set the work timer
Activate Child Lock
NET ZERO FIREPLACE
WITH BEV TECHNOLOGY®
TRUE ZERO CLEARANCE
The feature that allows you to install the fireplace in a housing construction made of combustible materials and even hang a TV above the fireplace.
HEAT DISTRIBUTION VENTS
Panorama fireplace comes with a complete set of components for an efficient distribution of heat.
GLASS-ENCLOSED
Panorama fireplace is enclosed with a durable tempered glass panels. The top surface of the fireplace can be coverd with the included glass foam pebbles to increase its aethetic value. As an option the burner can be decorated with ceramic logs or white stones.
NEW AUTOMATIC BURNER
The new burner with the patented BEV Technology® gives a much deeper and richer flame. It is the most advanced product in the industry, ensuring the cleanest burning process without any smoke, smell or ash. The flame is produced by combusting ethanol vapors and has no direct contact with the liquid fuel.
REMOTE CONTROL OPTIONS
Control the fire with the included remote, app on your smartphone or SHS.
MANY OPTIONS
PANORAMA can be installed in various surroundings
SINGLE-SIDED
TUNNEL
LEFT/RIGHT-CORNER
ROOM DIVIDER
ISLAND
THREE SIDED
NET ZERO TECHNOLOGY
Planika's eco fireplaces utilize bioethanol, an organic eco fuel made from plants, such as corn, wheat or potatoes. Ethanol is known to produce lower carbon dioxide emissions and is a particulate-free burning fuel source.
Read More
BENEFITS OF THE SOLUTION
It is 1200mm long, comes in seven different arrangements and burns for approx. 9 hours. The fireplace comes together as a full system to be installed without a chimney connection. The solution has two vents: one at the bottom to draw in the air, and one below the ceiling, distributing heat from the fireplace. Panorama has a zero-clearance feature allowing to implement it in a wall made from combustion materials.