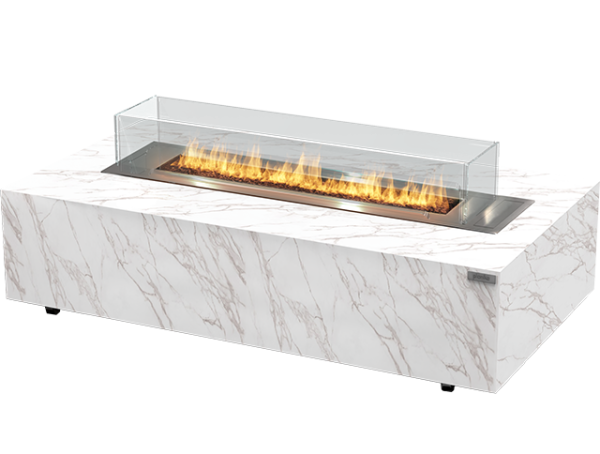 Detaje teknike
| | |
| --- | --- |
| Tipi i ndezjës | Elektronik (Pult, App) |
| Fuqia: | 13.4 kW |
| Konsum: | 0.95 Kg/orë |
| Regullim flake: | Po |
| Pesha | 55 Kg |
| Dimensionet e vatrës (WxHxD): | 1400 x 315 x 760 mm |
| Ambient | Outdoor |
| Prodhuar në: | Poloni |
| Veshja: | Daze, Laurent |
CHOOSE YOUR FAVOURITE FINISHING
Are you a fan of classic Planika black? Or do you fancy the stylish Corten steel? Finally, maybe you want to try the new ceramics finishing? Galaxy has it all! Available in four different finishing options for gardens in all styles.
FULL CONTROL OVER THE FLAMES
Thanks to the automatic control system you can play around with the fireplace from the comfort of your patio sofa. Whether your fireplace is fuelled with natural or bottled gas, Galaxy Fireplace can be controlled with the remote control or your mobile app. Changing the flame height within seconds? Fear not! Galaxy Fireplace is there to suit your needs.
CONVENIENT FREESTANDING FIREPLACE
Galaxy Fireplace is a perfect solution for those, who are looking for a classy, ready-to-use gas fire to use in their garden. Thanks to the sturdy construction and included glass shields, the fireplace is resistant to wind and all weather conditions. You just take it out of the box, connect to your gas supply of choice and enjoy it!