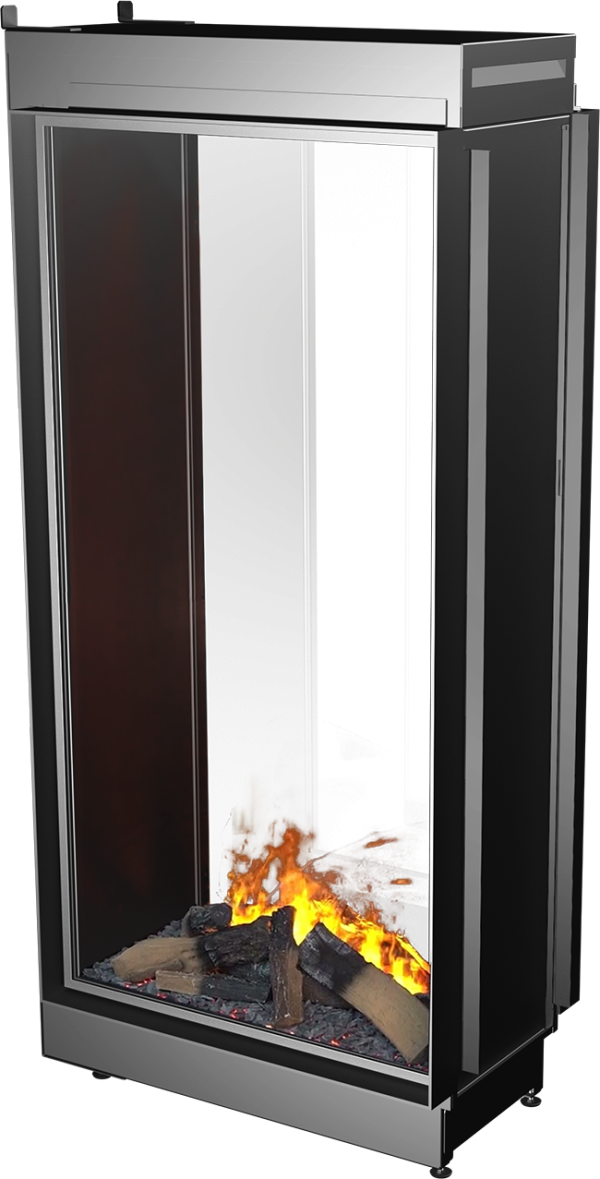 Detaje teknike
| | |
| --- | --- |
| Teknologji | e-MatriX burner |
| Forma e xhamit | Transparent (Tunel) |
| Tipi i ndezjës | Elektronik (Pult) |
| Konsumi: | 2000 Watt |
| Efekt zërit: | Jo |
| Nivelim zjarri: | Po |
| Nxehtësi: | Po (2000 Watt) |
| Lamba: | LED |
| Dekor zjarri: | Wood set, White Carrara pebbles, Acrylic ice |
| Dimesionet (WxHxD): | 966 x 1971 x 548 mm |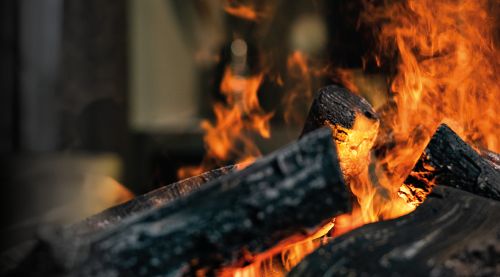 160 cm high and 80 cm wide
Fascinating eye-catcher
Discover the first ever electric vertical see-through fireplace! At an impressive 160 cm high and 80 cm wide, the e-MatriX Vertical is a fascinating focal point in any room. With its safe and energy-efficient fire display made of water mist and adjustable RGB LED lighting, you can create the atmosphere that suits your occasion at any time.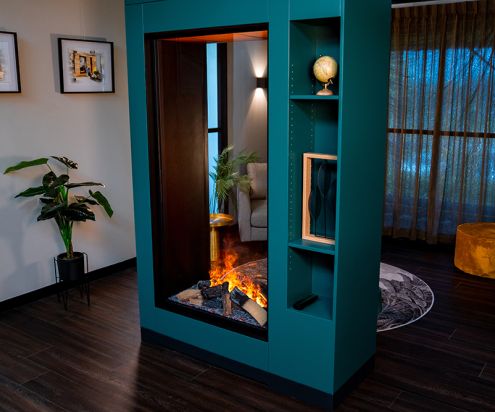 Endless possibilities
The perfect room divider anywhere
The e-MatriX Vertical gives you an impressive connection between two rooms, allowing you to enjoy a beautiful fire view both during a lovely evening on the couch and during a cosy drink at the dining table. Or would you rather see it in your luxury hotel suite, dividing your bedroom and bathroom? Or rather, in the lobby or restaurant of an exclusive hotel? As no flue pipe is required, the application possibilities are endless!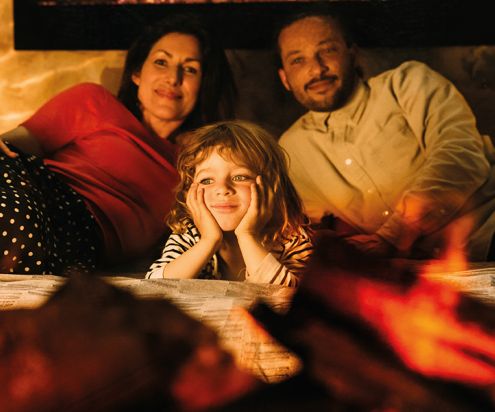 Future-proof
Energy-efficient and safe
Enjoy a realistic, dynamic and 100% safe fire view with the e-MatriX Vertical that fascinates through the combination of naturally swirling cold water vapour and energy-efficient LED light. As a result, the power consumption of the fire screen is practically zero. In addition, the Vertical consumes a maximum of a few litres of tap water per day (when used continuously). In other words, energy-efficient and completely emission-free! A good and sustainable alternative where fossil fireplaces are no longer wanted or allowed.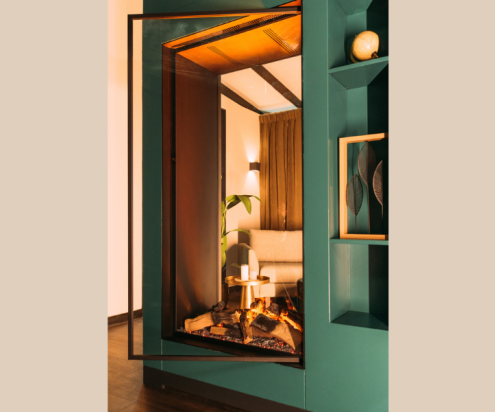 Wide installation options
Easy maintenance
Even with its size, this eye-catcher can be installed in many places. Only an ordinary socket, a (thin) flexible water connection or a reservoir with pump are sufficient for the connection. Moreover, maintenance is incredibly simple. Thanks to the stylishly integrated door, you simply polish away all the dirt on the glass of your e-MatriX Vertical ensuring that the glass always looks radiant! So you can enjoy maximum visibility and fire view every day.
Unprecedented possibilities
Determine your own atmosphere
Besides the many smart advantages of the e-Matrix Vertical, you can also go all-out when it comes to atmosphere and mood. Thanks to the adjustable RGB LED lighting, you can adjust the flames entirely to your liking. In addition, you choose your own firebed decoration, with the choice of wood, white Carrara pebbles or Acrylic Ice. For even more experience, you can also opt for bottom lighting, creating the image of a smouldering firebed.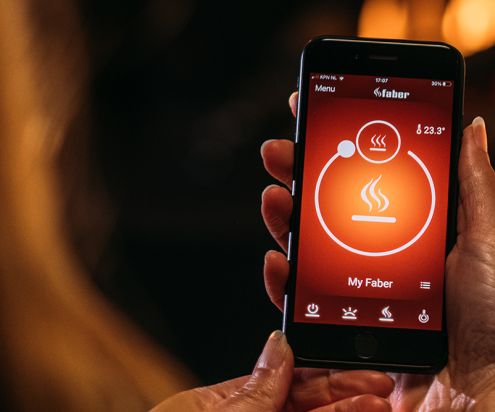 Faber app
Adjustable mood lighting
In addition to the included remote control, you can also control the e-MatriX Vertical with our Faber app. The app gives you even more control over the functions and settings of your fireplace. For instance, you can choose from 1 of 5 special mood light themes or create your own favourite theme. You can also control the temperature you want the fireplace to deliver at the touch of a button. And you can do it all from your mobile phone or tablet.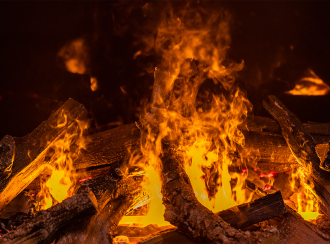 e-MatriX burner
The astonishing fire experience of the e-MatriX is due to a combination of swirling cold water vapor and energy-efficient (LED) lighting, without odor or smoke and therefore 100% sustainable. The result is pure enjoyment: a playful, three-dimensional fire image that moves upwards from the glow bed between the logs, to high at the top of the hearth.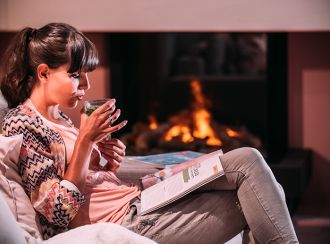 wonderful heat in front of the fire
Warmth and comfort
Indulge in a cozy fireplace and experience warmth at its best. The e-MatriX comes with a built-in, compact, and whisper-quiet supplementary heating unit, ready to provide you with extra warmth whenever desired. Control of this unit is seamlessly integrated into the remote, allowing you to effortlessly adjust heat settings. With fully adjustable power of up to 2 kW, the e-MatriX is also perfect as a local supplementary heating solution in well-insulated homes.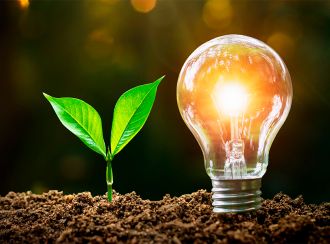 Environmentally-friendly & energy-efficient
Fireplace of the future
The fire in our electric fireplaces is created by cold water vapour and energy-efficient LED lighting. Made from pure tap water and therefore with 0% harmful emissions. Energy consumption, without additional heating, is comparable to an average television. With thermostatic heating, interaction timer and open window detection where the fireplace identifies sudden temperature differences and switches off the heating, energy consumption can be reduced even further.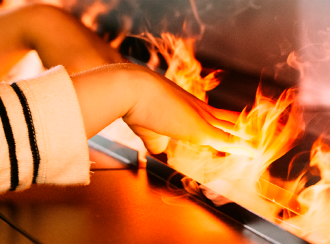 Antimicrobial treatment
All parts of our products that come into direct contact with water are equipped with the special antimicrobial silver ion technology. This technology proactively inhibits/disrupts the growth of bacteria/microbes and remains active throughout the life of the product, providing lasting protection. Proven to reduce bacterial growth by up to 99.99%.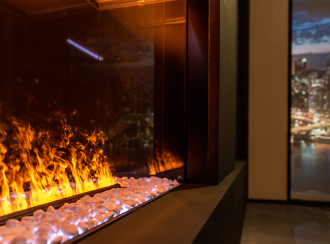 Bottom Light
The optional mood bottom lighting provides a remarkably warmer and even more natural appearance of the fire and glow image. Light intensity, dynamics and even the colors are extensively adjustable. An addition that enriches the look of the fireplace enormously and that you should therefore not miss! Available on all e-MatriX models.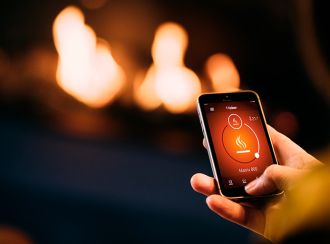 Get more from your Faber fire
The Faber ITC app
Faber ITC (Intelligent Technical Control) is the way of operating your Faber fire with your smartphone or tablet. Besides the standard functions, Faber ITC also has a number of extra options. Follow your dreams with the pre-programmed'romantic mood' settingor set the room temperature or operating period from your phone or tablet. You can have the fire switch off automatically when nobody is at home. The Faber ITC also tracks the usage history and service needs and informs the app as soon as maintenance is required. This information helps the Faber specialist to provide even better maintenance.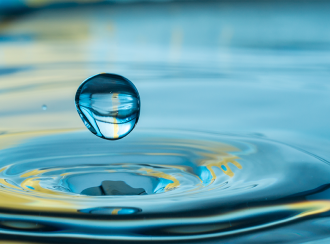 Waterpump
A water pump kit can also be ordered especially for the e-MatriX and e-SliM Linear, which makes it possible to install these fireplaces without a central water connection. With the help of a separate reservoir and this water pump, this makes it possible to install the e-MatriX and e-SliM Linear even if no central water connection is possible.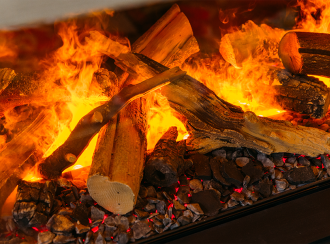 Ceramic Logset
Our ceramic logs decoration set is of very high quality and can hardly be distinguished from the real thing. With the ceramic log set you opt for a timelessly classic look for your fireplace. This high-quality classic decoration set is the standard in all our fireplaces and fits into any interior.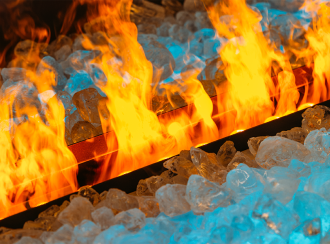 Acrylic Deco set
Optionally you can choose the special Acrylic Ice decoration set. With this set you give your fireplace an ultra-modern look. The decoration set consists of specially developed transparency "ice shards" that cover the bottom of your fireplace.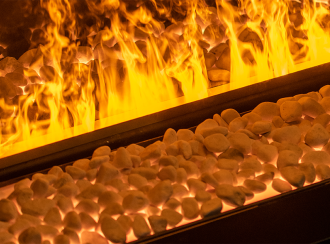 Carrara Deco set
Optionally, you can also opt for a decoration set with Carrara pebbles. The famous Carrara pebbles are snow-white in color and fall under the marble types. This white type of marble has a luxurious appearance and comes into its own in modern sleek interiors.